:D
1.
Accept this award graciously because your blog is simply awesome.
2.
Pass it on to five (5) other bloggers who have simply awesome blogs and tell them about it. Either by commenting on their blog, emailing them, etc.
3.
List five things that you find simply awesome.
4.
Pass these rules on [copy, paste]
I love
Furree Katt
, f
or appreciating my blog along with the
b
e
a
r
s
,
the trees, a
frog or two, communista simpaticos, the aliens who died of boredom along the way while observing our way of life and the friend or two who cared enough to
For what its worth. I thought this blog was meant for people like you. And if the posts get an inch too long, remember they take a mile of sincerity to come up with.
5 BLOGGERS THAT WHICH A DINOSAUR DOTH FIND AWESOME:
The Me at
Psych Rant . I like the feel of this blog and I find the blogger to be genuine.
El Demonio at Were it a girl. By far the most accurate and helpful reviews. What drew me to his blog was the fact that he read some amazing manga. I found in him a fellow lover of Detroit Metal City.
Peter Streusel at Haterade Everyday . Streusel has given meaning to the idea of ranting. An endeavour I set out for as well. There need not be merely mindless self-indulgence to what is the art of ranting. Keen observation and channeling of skepticism is a noble cause. I admit I never commented on his blog so as to not cramp his style. The guy is adamant on expressing himself regularly and I have come to respect that.
Pudgy Frog at Persnickety Me. I like the observations and the aggression that is mellowed by her personality. I like seeing the frustration I've seen in real life in text. I like seeing a perspective that my best-friend doesn't exhibit so smoothly in real life. Makes me feel awed. From the tea-pot.
5 THINGS THAT WHICH A DINOSAUR DOTH FIND AWESOME: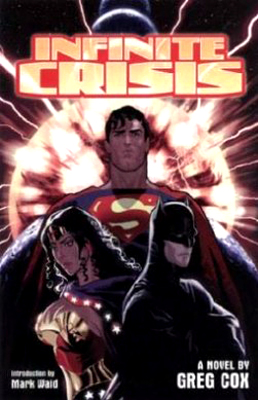 I LOVE HAVING THE NOVELIZATION TO ONE OF THE BEST STORY ARCS IN COMIC HISTORY.
WHY DOESN'T MY MUSHOOM SAUCE LOOK THAT GOOD? (IT DOES BUT I STILL HAVE ISSUES WITH THE TEXTURE)
THIS DOESN'T COUNT AS A SECOND BOOK BECAUSE TECHNICALLY INFINITE CRISIS IS MORE LIKE A COMPILATION OF HISTORICAL (COMIC) FACTS. THIS HOWEVER IS PERHAPS MY FAVOURITE ROMANTICIZED ESPIONAGE FICTION. IF ONLY ONE WAS 50 DURING THE COLD WAR AND COULD SAY "THOSE WERE THE DAYS".
SOME OF OUR PLEASURES ARE GUILTIER THAN OTHERS
NOSTALGIA ALONE WARRANTS THIS. BUT MMAAAAAAANNNNNN DO I MISS THE GOOD OLD DAYS. TRIBAL DRUMS, AKU AKU, CRYSTALS AND A CATAPULT CHICKEN OR TWO.
I see now that I have more followers, those too of quite a caliber. I shall try my best to maintain a standard that I have set out for.
Like Furree Katt, I too plead work-load and will soon post my promised sentimental thingos....
Its a good day to have chips. Finest indeed.